Welcome to the Sailor Moon Crystal wiki! Discover about the new reboot and add your own knowledge!


This wiki was created in order to give information based on the new reboot for the beloved Sailor Moon series titled, Pretty Guardian Sailor Moon Crystal! We hope you guys have fun on the site, as well as create, edit, and share information with all the fans. This site is for YOU. You have the ability to create blog posts, forums, pages, and so much more. Be careful to not post anything that is copyrighted or that will cause trouble within the site. Also, do not post unreliable or false information reguarding the Sailor Moon characters, episodes, etc. Sign up and get started today!

. The show will debut on July 5 on Hulu and Viz Media's Neon Alley.
On July 6, 2012, Naoko Takeuchi, Kodansha and idol group Momoiro Clover Z announced that a new anime adaptation was in production and scheduled to premiere in Summer 2013 for a simultaneous worldwide release as part of the series' 20th anniversary celebrations, with Momoiro Clover Z performing both the opening and ending theme music However in April 2013, the new anime had been delayed.
On August 4, it was confirmed that the new anime will be streamed in the winter. On January 9, 2014, it was announced that the new anime will premiere in July. On March 13, 2014, the official website for the new anime was updated to reveal a countdown (beginning on March 14), regarding a special announcement that will be revealed on March 21, 2014. That same day, an image displaying the key visual art, synopsis and staff for the new anime were announced on Toei's website, revealing the name for the anime, Pretty Guardian Sailor Moon Crystal (美少女戦士セーラームーンCrystal Bishōjo Senshi Sērāmūn Kurisutaru). The series is animated by Toei Animation and directed by Munehisa Sakai. At the 20th Anniversary Project Special Stage on April 27, 2014, the cast and premiere date were announced; the anime will premiere on July 5, 2014, with episodes premiering on the first and third Saturdays of each month.
While Kotono Mitsuishi reprises her role as the main protagonist Sailor Moon from the previous series, a new cast of voice actresses were chosen for the four Sailor Guardians. Sailor Mercury's voice actress is Hisako Kanemoto, Sailor Mars is voiced by Rina Satō, Sailor Jupiter by Ami Koshimizu, and Sailor Venus is voiced by Shizuka Itō. It was revealed on April 30 that the series will run for 26 episodes, streaming via Niconico, on the first and third Saturday of each month for a whole year from July 5 onwards. Crunchyroll will also stream the series on their website on July 5, 2014 at 6:00am ET (10:00 UTC). The first trailer for the new anime was published on YouTube on June 5, along with an announcement of the voice talent slated to play Tuxedo Mask and Luna (Kenji Nojima and Ryo Hirohashi respectively.) On May 16, 2014, to coincide with the licensing of the previous anime series, Viz licensed the Sailor Moon Crystal anime for simulcast streaming in North America.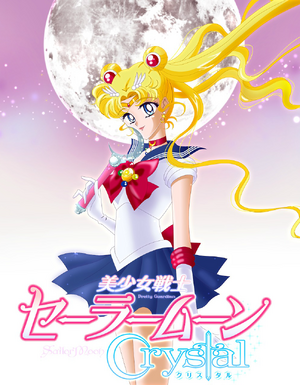 Blogs
Hey, y'all, me again. I'm just here to tell all of u people on any wikis that I'm fine with your comments, and I don't blame people for their thoughts on any articles, XD. However, some things that b…
Brought SMC season 1 on DVD in English. At last I don't have to read any captions, just relax while (re)watching this incredible show.
I have finally watched Sailor Moon Crystal and I can't help but compare Crystal to the Original. 
See more >